Jurassic World: Dominion Dominates Fandom Wikis - The Loop
Play Sound
Earth-Prime is one of the many universes in the new multiverse created during the Anti-Monitor Crisis. It, along with the new multiverse, was created by the Spectre and the Paragons after the Anti-Monitor destroyed the previous multiverse, though at the cost of Oliver's life. It was composed of elements from various previous Earths, such as Earth-1, Earth-2, Earth-38, and Earth-TUD5 in an amalgamation that forms this new reality. A team was later assembled as this Earth's guardians.
History
[
]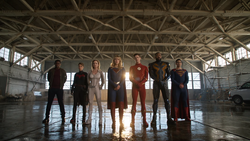 The Spectre created a new multiverse, with this universe being part of it after all of the original multiverse was erased from existence.
Due to the vibration frequencies being different in this multiverse, this Earth currently has no access to the rest of the new multiverse by normal means nor do its occupants appear to be aware of the new multiverse's existence.
The history and certain events occurring on Earth-1, Earth-2, Earth-38, and Earth-TUD5 all seem to have still happened with more or less minuscule differences.
Also, certain events have happened differently on this Earth. So far though, only the Paragons and a select few are aware of the changes.
Major events (in chronological order)
[
]
B.C.
[
]
A.D.
[
]
French Revolution (1793)
World War II (1940)
Hindenburg disaster (prior to 1947)
Cuban Missile Crisis (1962)
Euro 2004 Football Tournament (2004)
Mallus defeated by the

Legends

(1874)
Spanish Civil War (1936-1939)
The Undertaking (2379)
S.T.A.R. Labs particle accelerator explosion (2379)
Invasion of Slade Wilson's Mirakuru army in Starling City (2380)
Creation of The Singularity and Zoom's meta-human group (2388)
Invasion of Zoom's army in Central City (2389)
Dominator invasion (2389)
Daxamite Invasion (2390)
Battle of Heyworld (2392)
Ramsey Rosso's reign of terror in Central City (2392)
Anti-Monitor Crisis (2392-2393)
The formation of the Crisis team (2393)
The disbandment of Team Arrow (2393)
Deathstroke/Prometheus attack on Star City (2393)
The Black Hole conspiracy (2393)
The War for Freeland (2393)
The Death of the Speed Force (2393)
The Superfriends, Luthor Corp, and Leviathan at war (2393)

Worldwide Unity Festival (2393)

The downfall of Leviathan (2393)

Phantom invasion of National City (2393)
Birth of the Forces of Nature (2393)
The Godspeed War (2393)
The Quest for the AllStone Totems (2394)

Lex Luthor and Nyxlygsptlnz imprisoned in the Phantom Zone (2394)

Kara Danvers comes out as Kara Zor-El/Supergirl to the world (2394)
Possible future
[
]
Fall of Star City (2411–2412; presumably prevented by Mia Queen's team)
Putin ousted from office (2044)
Anti-Internet trolling Legislation was approved world-wide (circa 2526)
Timeline alterations
[
]
Anachronisms (formerly; timeline fixed by the Legends)
England Zombie Apocalypse (2393; probably reversed by the Fates)
Flashpoint (briefly; due to Barry's restoration of the timeline)
Loomworld (briefly; due to the Legends' intervention)
Notable individuals
[
]
Residents
[
]
Abra
Florence Abbott
Abraham
"The Acolyte"
Roxanne Adams
Ruvé Adams (deceased)
George Adler, Jr.
George Adler, Sr./The Detonator (deceased)
Bryan Akins
Michael Akins
Al
Ali
Nyssa Raatko/Nyssa al Ghul
"Ra's al Ghul" (deceased)
Bart Allen/Impulse
Henry Allen (deceased)
Nora Allen (deceased)
Anaya
Pete Andrews
Marie Antoinette (deceased)
Imra Ardeen/Saturn Girl (as of 31st century)
Ares
Patricia Arias
Ruby Arias
Samantha Arias/Reign
Atropos (deceased)
Ayla
Ayala (as of 31th century)
Azrael
Shawna Baez/Peek-a-Boo
Geoffrey Baron/Technocrat
Clyde Barrow (deceased)
Hannibal Bates/Everyman
Jennifer Bates
Richard Bates
Gregory Bauer
Maude Beaumont
Bianca Bertinelli (as of 2411)
Logan Bertinelli (as of 2411)
Maria Bertinelli (as of 2411)
Victor Bertinelli (as of 2411)
Beyoncé
Billy Black
"Black Caesar" (deceased)
Mark Blaine/Chillblaine
Evan Blake/Wolf Spider
Blue Ivy
Jaco Birch/The Hotness
Roy Bivolo/Rainbow Raider
Bishop
Margaret Bishop
Peggy Bishop
Blair
Andrea Bocelli
Bonnie (deceased)
Ross Bottoni
David Bowie
Bowlan
Slam Bradley
Brandon Marshall
Susan Brayden
Sterling Brooks
Brutus (deceased)
M. Butler (deceased)
John Byrne
Black Caesar (deceased)
Raymond Calverick
Ethan Campbell
Carl
August Cartwright (deceased)
Jonathan Cartwright/Mouse (deceased)
Mabel Cartwright (deceased)
Joseph Carver (deceased)
Chas Chandler
Prince Charles (as of 1997)
Clotho/Charlie
Adrian Chase/Prometheus (deceased)
Chemical King
Grace Choi
Ryan Choi
"Chronarch"
Charlie Clarke
"Clayface"
William Clayton
Cleopatra  (deceased)
John Constantine (deceased)
Sam Cooke
Chip Cooper
John Corben/Metallo
Brian Corkum
Seul Corova
Mia Cortez
N'or Cott
Chas Chandler
Thomas Coville
Liam Crandle/Mad Hatter
Courtney/Stargirl/Merlin (as of 507)
Jonathan Crane/Scarecrow
Trevor Crane
Ned Creegan/Cyclotronic (deceased)
Cronus
Aleister Crowley
Esperanza Cruz/Spooner
Kyle Cushing
Sarah Cushing
Keven Dale (as of 2411)
Eliza Danvers
Jeremiah Danvers (deceased)
Damien Darhk (deceased)
Nora Darhk/Fairy Godmother
Ramsey Deacon/Kilg%re (deceased)
Sue Dearbon
Declan
Duela Dent
Evelyn Dent
W. Desrochers
Destiny
Clifford DeVoe/The Thinker (deceased)
Marlize DeVoe
Dana Dewitt
William Dey (deceased)
Debbie Dibny
Ralph Dibny/Elongated Man
Sara Diggle
Dionysus
Rosa Dillon/Top
Myrtis Dinker
Chuck Dodgson
Stu Donnelly (deceased)
Doris
Querl Dox/Brainiac 5
Querl Dox's distant relative
Querl Dox's father
Querl Dox's mother
Orlin Dwyer/Cicada (deceased)
Edgar
Edgar's mother
Tal-Rho/Morgan Edge/The Eradicator
Bertrand Eldon/Executioner (deceased)
Tommy Elliot/Hush
"Enchantress"
Esme
Chris Evans
Vesper Fairchild
Jack Faust
"Michael Fisher"
Dan Fisk
Forbes
Forbes' wife
Steven Forbes
Esrin Fortuna
Lucius Fox (deceased)
Luke Fox
Franklin
Nora Fries
Victor Fries/Mr. Freeze
Frost
Frye
Eric Frye
David Fuglestad (deceased)
Gaines
Peter Gambi
Gamemnae/Gemma Cooper (deceased)
Allegra Garcia
Allegra Garcia's father
Esperanza Garcia/Ultraviolet (deceased)
Grace Gibbons
Gideon
Gilly
Gleek
Russell Glosson/The Turtle (deceased)
Jim Gordon
Cat Grant
Mercy Graves (deceased)
Otis Graves (deceased)
Gardner Grayle
Gary Green
Sara Grey (deceased)
Grodd
H'ronmeer
David Hackett (deceased)
Hades
Cathie Hahel
Carter Hall/Hawkman (deceased)
Garrett Hall (deceased)
Mary Hamilton
Catherine Hamilton-Kane (deceased)
Tiffany Harper
Kevin Harris
Reggie Harris
Harvey
"Hat"
Connor Hawke
August Heart/Godspeed 
Hecate
Helen of Troy (as of 1253 B.C.)
Hellgrammite
Bill Henderson (deceased)
Henry VIII (deceased)
Hank Henshaw
Philip Henslowe (as of 1594)
Jonah Hex (as of 1874)
Hank Heywood (deceased)
Henry Heywood/Commander Steel (deceased)
Nate Heywood/Steel
Hewitt
Jeanie Hill (deceased)
Jeremiah Holt
J. Edgar Hoover (deceased)
Cecile Horton
Cecile Horton's mother (deceased)
Kimiyo Hoshi/Dr. Light
Whitney Houston
Dolores Huerta
John Hughes
Rip Hunter (deceased)
Gene Huskk (deceased)
Saddam Hussein (as of 2004)
Kamilla Hwang
Ian
Imani
"Instant"
John Henry Irons (deceased)
Ishmael
Pamela Isley/Poison Ivy
Anthony Ivo (deceased)
Jackie (as of 1962)
J'onn J'onzz/Martian Manhunter
M'yrnn J'onzz (deceased)
Malefic J'onzz
Jack the Ripper (deceased)
Helga Jace (deceased)
Joslyn Jackam/Weather Witch
Jefferson Jackson/Firestorm
Vanessa Jansen/Block  (deceased)
Jada Jet
Marquis Jet
Jill
Amaya Jiwe/Vixen (as of 2365)
Leslie Jocoy/Amunet Black
Latavious Johnson/Tattooed Man
Devonte Jones
Rudy Jones/Parasite (deceased)
Waylon Jones/Killer Croc (deceased)
Beth Kane/Alice
Frankie Kane/Magenta
Jacob Kane
Gabi Kane (deceased)
Keith/Goldface
Clark Kent/Kal-El/Superman
Jonathan Kent
Genghis Khan (deceased)
Rama Khan
Thaddeus Killgrave
Tony Kim (deceased)
Natalia Knight/Nocturna
Anatoly Knyazev/KGBeast
Daisy Korber
Vasily Kosov
Kurt
"La Torera
Lachesis
Laurel Lance (deceased)
Lois Lane
Brie Larvan/Queen Bee/Bug-Eyed Bandit
Linda Lee/Red Daughter (merged back into Kara Danvers)
Gary "Gaz" Lester (deceased)
Ichiro Lestrapes
Amy Li (as of 2009)
Kenny Li
"Lightning Lass"
Lita
"Little Richard"
Ben Lockwood/Agent Liberty
George Lockwood
Lydia Lockwood (deceased)
Peter Lockwood (deceased)
Loeb
Alex Logue
Astra Logue
Natalie Logue (deceased)
Steve Lomeli
Looker
Ana Lopez
Lara Lor-Van
Anna Loring (deceased)
John Loring
Maryam Luqman/Chameleon
Lena Luthor
Lex Luthor
Lillian Luthor
M'gann M'orzz/Miss Martian
"Mad Dog"
Rick Malverne
Marchosias
Mark Mardon/Weather Wizard
Margot/Magpie
Olivia Marsdin
Gayle Marsh/Psi
Brandon Marshall
Marv
Mary
Maurice
Remington Meister
Papa Midnite
Marchosias 
Kayla Mason
Maurice
Arielle McAlpin
Eva McCulloch
Mary McGowan
Peter Merkel/Rag Doll
Theresa Merkel (deceased)
Malcolm Merlyn/Dark Archer (deceased)
Tommy Merlyn
Freddy Meyers
Kathy Meyers
Anthony Paul Mitchell (deceased)
Mon-El
Renee Montoya
Moore
Sophie Moore
Erica Moran
Yuri Mosin (deceased)
Nia Nal/Dreamer
Nura Nal
Jack Napier/Joker (deceased)
Natalie
Nicholas II
Kyle Nimbus/The Mist
Nommo
Matthew Norvock
Winnick Norton/The Dodger
Frida Novikov/Turtle II
Bill Nye
Ellis O'Brien
Barack Obama
Ocean
Odell
Maya Odell
James Olsen/Guardian
Jamillah Olsen (deceased)
Kelly Olsen/Guardian II
Andi Ostergaard
Deon Owens
Emily Palizzi
Linda Park
Grace Parker/Pestilence (deceased)
Khalil Payne/Painkiller
Alfred Pennyworth
Julia Pennyworth
Perenna
Janet Petty/Null (deceased)
Alvin Pierce (deceased)
Anissa Pierce/Thunder/Blackbird
Jefferson Pierce/Black Lightning
Jennifer Pierce/Lightning
Pippa
President of the Federation
Moira Queen
Robert Queen (deceased)
Zoe Ramirez
Jean Rankin
Rao
Grigori Rasputin (deceased)
Hartley Rathaway/Pied Piper
Millie Rawlins/Sunshine
Ronnie Raymond/Firestorm (deceased)
Reagan
Bobby Reeves
Reiff
Ryan Reynolds
Rhea (deceased)
Rhea
Zeta-Rho
Evelyn Rhyme/Enigma (deceased)
Rifle
Miguel Robles/The Detonator
Russell Rogers/Rip Roar (deceased)
Andrea Rojas/Acrata
Bernardo Rojas
Alexei Romanov (deceased)
Alexandra Romanova (deceased)
Anastasia Romanova (deceased)
Dick Rory (deceased)
Ramsey Rosso/Bloodwork
Chester P. Runk
Gertrud Runk
Johnny Sabatino
"Sargon the Sorcerer"
Saucéy (as of 2445)
Vandal Savage (deceased)
Elle Scantlin
Scar (relocated to the Phantom Zone)
Winn Schott/Toyman
Winslow Schott Sr./Toyman (deceased)
Amara Scott
Sam Scudder/Mirror Master
Sela
Selena
William Shakespeare (deceased)
Benjamin Siegel (deceased)
Silas White
Simone
Nina Simone
David Singh
Roderick Smith
Leonard Snart/Captain Cold (deceased)
Bethany Snow
Thomas Snow/Icicle (deceased)
Safiyah Sohail
Solovar
Joseph Stalin (deceased)
Angus Stanton (deceased)
Martin Stein/Firestorm (deceased)
Steven/Killer Croc
Lynn Stewart
Lynn Stewart's aunt
Lynn Stewart's father
Lynn Stewart's mother
JJ Stewart/Lethal Lightning (deceased)
Evelyn Stillwater-Ferguson/Lady Eve
James Stoteraux
Barbara Streisand
Derek Stricker
Sullivan (as of 1947)
Sun-Eater
Tyson Sykes/Gravedigger
Tabitha (deceased)
Carla Tannhauser
Behrad Tarazi
Nasreen Tomaz
Zari Tarazi's father
Ray Terrill/The Ray
Eve Teschmacher
Apollo Teslow
Tim Teslow/The Titan (deceased)
Jervis Tetch/Mad Hatter (deceased)
Tezumak
Eddie Thawne
Thierry
Joey Toledo (deceased)
Zari Tomaz (in the air totem)
Naxim Tork (as of 2009)
Parker Torres
Scythian Torvil/Hawkman (reincarnated)
Trevor/Deathstroke (as of 2411)
Two-Bits
Tyler
Vlad the Impaler (deceased)
Vita
Axel Walker/The Trickster
Bonnie Walker
Elizabeth Walsh (deceased)
Martha Wayne (deceased)
Webb
Wellington
Riggs Wellington
Harrison Wells (deceased)
Francine West (deceased)
Joe West
Wally West/Kid Flash
Nora West-Allen/XS (erased from existence)
Jenna West
Carson Williams (deceased)
Tobias Whale
Tony Woodward/Girder (deceased)
Kimberly Wright
Mona Wu/Wolfie
Tatsu Yamashiro
Yusupov (deceased)
Yvette
Zeus
Zod (deceased)
Zor-El
Alura Zor-El
Refugees from the original multiverse
[
]
Shay Lamden/King Shark
Harrison "Harry" Wells (deceased)
Wells the Grey (deceased)
Harrison Sherloque Wells (deceased)
Harrison Nash Wells (deceased)
Brainiac 5 (formerly; currently in the Big Brain)
Querl Dox/Brainiac 5 (formerly; currently in the [[Big Brain)
Al
Brainiac 5
Selena
Ayala
Vita
Winn Schott/Toyman (deceased)
John Henry Irons
Natalie Lane Irons
Visitors
[
]
Mobius/Anti-Monitor (shrinking for eternity)
Shadow demons
Known locations
[
]
Colu (planet)
Daxam (planet)
Durla (planet)
Hell (dimension)
Hellgram (planet)
Jarhanpur (planet)
Krypton (planet; destroyed)
Argo (city; currently in outer space)
Microverse (dimension)
Mirrorverse (dimension)
Naltor (planet)
Sol (star of the solar system)

Earth (planet)

Africa (continent)

Egypt (country)
Gorilla City (city)
Kilimanjaro (volcano)
Serengeti (region)
Tinasha (city)
Zambesi (country)

Atlantis (city)
Australia (country)
Austria (country)
Bialya (country)
Bogotá (city)
Brazil (country)
Cambodia (country)
Canada (country)

Alberta (province)

Calgary (city)
Edmonton (city)
Lethbridge (city)
Medicine Hat (city)
Red Deer (city)

British Columbia (province)
Fort St. John (city)

Nelson (city)
Prince George (city)
Queen Charlotte Islands (islands)
Vancouver (city)
Victoria (city)

Manitoba (province)
Northwest Territories (territory)

Ft. Smith (town)
Fort Resolution (town)

Saskatchewan (province)

Estevan (city)
Moose Jaw (city)
Pr. Albert (city)
Regina (city)
Saskatoon (city)

Yukon (territory)

China (country)
Corto Maltese (country)
Czech Republic (country)
Dinosaur Island (island)
Fiji (country)
Fortress of Solitude (fortress)
France (country)
Greece (country)
Iraq (country)
Italy (country)
Kasnia (country)

Kooey Kooey (region)

Kooey Kooey Island (island)

Kyoto (city)
Markovia (country)
Markovburg (city)
Mexico (country)
Nanda Parbat (city)
North China Sea (sea)
Qurac (country)
San Monte (country)
Santa Prisca (island)
Russia (country)
Russian Empire (empire; as of 1917)
Tokyo (prefecture)
UK (country)

Great Britain (island)

Camelot (kingdom; as of 507)
England (country)
Newcastle (city)

Northumberland Country (country)
United States (country)

Baltimore (city)
Burbank (city)
Chicago (city)
Freeland (city)
Gotham City (city)
Happy Harbor (city)
Hawaii (sate)
Idaho (sate)

Boise (city)
Lewiston (city)
Pocatello (city)

Ketchikan (city)
Las Vegas (city)
Los Angeles (city)
Metropolis (city)
Miami (city)
Midway City (city)
Missouri (sate)
Central City (city)
Montana (state)

Billings (city)
Butte (city)
Ft. Peck (town)
Glasgow (city)
Glendive (city)
Helena (city)
Livingston (city)

National City (city)
New York (sate)
North Dakota (state)
Opal City (city)
Oregon (state)

Astoria (city)
Burns (city)
Columbia (city)
Coos Bay (city)
Eugene (city)
Mt. Hood (mountain)
N. Bend (city)
Portland (city)
Salem (city)

Sitka (city)
Star City (city)
Washington (state)

Olympia (city)
Seattle (city)
Spokane (city)
Tacoma (city)

Washington, D.C. (city)
Wyoming (state)

Casper (city)
Worland (city)

Mars (planet)
Saturn (planet)
Titan (moon)

Swan Moon (planet)
Appearances
[
]
Arrow

[

]
Season 8
[
]
"Crisis on Infinite Earths: Part Four"
"Green Arrow & The Canaries"
"Fadeout"
DC's Legends of Tomorrow

[

]
Season 5
[
]
"Crisis on Infinite Earths: Part Five"
"Meet the Legends"
"Miss Me, Kiss Me, Love Me"
"Slay Anything"
"A Head of Her Time"
"Mortal Khanbat"
"Mr. Parker's Cul-De-Sac"
"Romeo V. Juliet: Dawn of Justness"
"Zari, Not Zari"
"The Great British Fake Off"
"Ship Broken"
"Freaks and Greeks"
"I Am Legends"
"Swan Thong"
Season 6
[
]
"Ground Control to Sara Lance"
"Meat: The Legends"
"The Ex-Factor"
"Bay of Squids"
"The Satanist's Apprentice"
"Bishop's Gambit"
"Back to the Finale: Part II"
"Stressed Western"
"This is Gus"
"Bad Blood"
"The Final Frame"
"Bored On Board Onboard"
"Silence of the Sonograms"
Batwoman

[

]
Season 1
[
]
"How Queer Everything Is Today!"
"An Un-Birthday Present"
"Take Your Choice"
"Drink Me"
"Grinning From Ear to Ear"
"Off With Her Head"
"Through the Looking-Glass"
"A Narrow Escape"
"If You Believe In Me, I'll Believe In You"
"A Secret Kept From All the Rest"
"O, Mouse!"
Season 2
[
]
"Whatever Happened to Kate Kane?"
"Prior Criminal History"
"Bat Girl Magic!"
"Fair Skin, Blue Eyes"
"Gore on Canvas"
"Do Not Resuscitate"
"It's Best You Stop Digging"
"Survived Much Worse"
"Rule #1"
"Time Off for Good Behavior"
"Arrive Alive"
"Initiate Self-Destruct"
"I'll Give You a Clue"
"And Justice For All"
"Armed and Dangerous"
"Rebirth"
"Kane, Kate"
"Power"
Supergirl

[

]
Season 5
[
]
"The Bottle Episode"
"Back From the Future - Part One"
"Back From the Future - Part Two"
"It's a Super Life"
"The Bodyguard"
"Reality Bytes"
"Alex in Wonderland"
"Deus Lex Machina"
"The Missing Link"
"Immortal Kombat"
Season 6
[
]
"Rebirth"
"A Few Good Women"
"Phantom Menaces"
"Lost Souls"
"Prom Night!"
"Prom Again!"
"Fear Knot"
"Welcome Back, Kara!"
"Dream Weaver"
Black Lightning

[

]
Season 3
[
]
"The Book of Markovia: Chapter One: Blessings and Curses Reborn"
"The Book of Markovia: Chapter Two"
"The Book of Markovia: Chapter Three"
"The Book of Markovia: Chapter Four"
"The Book of War: Chapter One: Homecoming"
"The Book of War: Chapter Two"
"The Book of War: Chapter Three: Liberation"
Season 4
[
]
"The Book of Reconstruction: Chapter One"
"The Book of Reconstruction: Chapter Two"
"The Book of Reconstruction: Chapter Three"
"The Book of Reconstruction: Chapter Four"
"The Book of Ruin: Chapter One"
"The Book of Ruin: Chapter Two"
"Painkiller"
"The Book of Ruin: Chapter Three"
"The Book of Ruin: Chapter Four: Lyding"
"The Book of Reunification: Chapter One"
"The Book of Reunification: Chapter Two"
"The Book of Resurrection: Chapter One"
"The Book of Resurrection: Chapter Two: Closure"
The Flash

[

]
Season 6
[
]
"Marathon"
"Love Is A Battlefield"
"A Girl Named Sue"
"Grodd Friended Me"
"Death of the Speed Force"
"The Exorcism of Nash Wells"
"So Long and Goodnight"
"Liberation"
"Pay the Piper"
"Success Is Assured"
Season 7
[
]
"All's Wells That Ends Wells"
"The Speed of Thought"
"Mother"
"Central City Strong"
"Fear Me"
"The One With The Nineties"
"Growing Pains"
"The People v. Killer Frost"
"Timeless"
"Family Matters, Part 1"
"Family Matters, Part 2"
"Good-Bye Vibrations"
"Masquerade"
"Rayo de Luz"
"Enemy At the Gates"
"P.O.W."
"Heart of the Matter, Part 1"
"Heart of the Matter, Part 2"
Mister Parker's Cul De Sac

[

]
"Mr. Parker Painting"
"Mr. Parker Mad Moves"
"Mr. Parker After 5"
"Mr. Parker Fish Food"
"Mr. Parker Goodnight"
Superman & Lois

[

]
Season 1
[
]
"Pilot"
"Heritage"
"The Perks of Not Being a Wallflower"
"Haywire"
"The Best of Smallville"
"Broken Trust"
"Man of Steel"
"Holding the Wrench"
"Loyal Subjekts"
"O Mother, Where Art Thou?"
"A Brief Reminiscence In-Between Cataclysmic Events"
"Through the Valley of Death"
"Fail Safe"
"The Eradicator"
"Last Sons of Krypton"
Comics
[
]
DC Pride

[

]
The Chronicles of Cisco

[

]
File_0004 "User_Allegra"
File_0005 "User_Chester"
File_0006
Trivia
[
]
It is unknown why so many refugees from the original multiverse were allowed to remain on Earth-Prime. They were presumably needed on Earth-Prime, their Earth wasn't restored, or The Spectre simply made errors during the creation of the new multiverse. However, in the case of Laurel Lance (Earth-2), he could've done this on purpose.
The lack of Oliver's body on Earth-Prime is an anomaly. Despite the fact he did exist there; no corpse was found after the multiverse reboot.
Due to an anomaly in the new multiverse, under normal circumstances, Earth-Prime will only allow a single version of one person to exist on it, or "Highlander" rules, in Cisco terms. However, so far it was only shown to apply to individuals from the old multiverse.

This applies to surving worlds, as if Earth-TUD17 was released from it's Brainiac 5's bottle, it would destroy both it and Earth of the Prime universe.
Behind the scenes
[
]
Interestingly in the original comic Crisis, five earths survive the event and get merged into New Earth.

It seems that due to Earth-1's importance as where the portal to the nexus is, the histories of the refugees/suvivors got mingled together with it during the reboot.
At the same time, this also hints Earth-96 was originally meant to merge with these Earths as well; until Superman was replaced by Lex Luthor as a paragon.

This universe shares the same name as the keystone "real world" in the comics, also designated as Earth-33.

The name could also be a nod to Prime Earth, which is the mainstream reality after Flashpoint.

Real-life similarities (all of which has been mentioned or seen) that have been confirmed to exist in this universe include;

writers such as

William Shakespeare

and

Marv Wolfman

;
musicians and music groups such as

Adele

,

Julie Andrews

,

David Bowie

,

Mariah Carey

,

Johnny Cash

,

Patsy Cline

,

Marvin Gaye

,

Whitney Houston

,

Mick Jagger

,

Beyoncé Knowles-Carter

,

Bob Marley

,

Dean Martin

,

Idina Menzel

,

Freddy Mercury

,

George Michael

,

Stevie Nicks

,

Dolly Parton

,

Ben Platt

,

Elvis Presley

,

Prince

,

Frank Sinatra

,

Barbara Streisand

,

Jazmine Sullivan

,

Taylor Swift

,

James Taylor

,

Amy Winehouse

,

Stevie Wonder

, and the band "

Toto

";
actors and other celebrities such as

Blue Ivy Carter

,

John Carpenter

,

John Cena

,

Chris Evans

,

Tom Hanks

,

John Hughes

,

Dwayne Johnson

,

Alexander McQueen

,

Ryan Reynolds

, and

Steven Spielberg

;
politicians and political figures such as

Fidel Castro

,

Shirley Chisholm

,

C. Douglas Dillon

,

Ike Eisenhower

,

Ruth Bader Ginsburg

,

Dolores Huerta

,

Saddam Hussein

,

John F. Kennedy

,

Robert F. Kennedy

, Martin Luther King Jr.,

Abraham Lincoln

,

Robert McNamara

,

Barack Obama

,

Alexandria Ocasio-Cortez

,

Franklin Roosevelt

, and

Joseph Stalin

;
royalty and other nobility such as

Marie Antoinette

, Prince Charles,

Cleopatra VII

, Queen Elizabeth II, King

Henry VIII

, Duchess

Meghan Markle

, the

Romanov family

, and

Vlad III

;
other historical figures such as "

Black Caesar

",

Genghis Khan

,

Grigori Rasputin

, and

Benjamin Siegel

;
the social media platforms "

Facebook

", "

Instagram

", and "

LinkedIn

";
mass media such as the magazine "

The Advocate

";
films such as "

Beetlejuice

", "Black Panther", "

Frost/Nixon

", "

Ghostbusters

", "

Ghostbusters II

", "

Indiana Jones and the Last Crusade

", and "

Thor: Ragnarok

";
television series such as "

Jeopardy!

" and "

Supernatural

";
video games such as "Injustice 2", "Killer Instinct", the "

Mario Kart

" series, and the "

Mortal Kombat

" series;
musicals such as "

Singin' in the Rain

";
comic books such as "Claw the Unconquered", "DC Super-Stars of Space", "

Green Lantern Corps: Edge of Oblivion

", "Jonah Hex Spectacular", "Kamandi", "Looney Tunes", "

Secrets of Haunted House

", and "

Star Hunters

";
songs such as "

9 to 5

", "Africa", and "I'm Too Sexy";
groups such as Nazis;
government agencies and organizations such as the

NSA

and the

US Army

;
businesses such as DC Comics;
universities such as

MIT

and

Yale

;