Jumpgate
Production information
Manufacturer
Designer
Technical specifications
Function

Intergalactic travel

Size

Gate 1: Diameter: 400 meters
Gate 2: Diameter: 1609 meters (1 mile)

Made of

Gate 1: 80 individual blocks
Gate 2: 90 individual blocks

Power source

Quantum singularity

Usage
Affiliation
The Jumpgate is a massive device developed by the Federation in the year 2379, spanning three to four hundred meters across.
All known Jumpgates have been used for the specific purpose of establishing intergalactic travel between the Milky Way and Pegasus galaxies, permitting the rapid passage of Starfleet's starships across intergalactic distances. (Star Trek: George Hammond; Star Trek: Intrepid)
Construction
[
]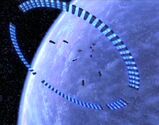 Jumpgates are comprised of 90 individual segments, which are interlinked by a powerful energy field, the blocks are constructed individually.
History
[
]
In 2379, the first use of the new Jumpgate was made by the USS Intrepid-A and the USS Daedalus when they went to the Pegasus galaxy on a mission to destroy a Wraith outpost. (Star Trek: Intrepid)
Operation
[
]
Both Jumpgates in the Milky Way have been powered by black holes, which Colonel Samantha Carter speculated was the only means by which they could be maintained indefinitely.
Thanks to the information provided by Dr. Daniel Jackson, Carter developed a way to dial a Jumpgate using Federation technology.
Vulnerabilities
[
]
The only known means of destroying a Jumpgate is to break the chain of connecting segments prior to its completion, disrupting the energy field before the singularity that will serve as its power source can be formed.
However, it is possible to render a Jumpgate unusable, as, there is no way to shut down an incoming wormhole.
Gallery
[
]