We're Getting Mutants in the MCU - The Loop
Play Sound
This page details Paris McKenna in the primary universe; for the Paris McKenna in the mirror universe see Paris McKenna (mirror); for the Paris McKenna in the alternate reality created by Nero's temporal incursion see

Paris McKenna (alternate reality)

; for the Paris McKenna in all other alternate universes see

Paris McKenna (alternates)

.
Paris McKenna

Paris McKenna in 2389
Full name:
Paris McKenna
Known aliases:
Sidra Holland,
Susan Delfino
Species:
Human
Gender:
Female
Homeworld:
Earth
Born:
July 26th, 2332
Affiliation:
Federation,
Starfleet
Family
Mother:
Jane McKenna
Father:
Jack McKenna
Marital Status:
Single
Spouse(s):
Typhuss Halliwell (lover, 2359)
Career
Occupation:
Starfleet officer
Rank:
commander
Insignia:

Paris McKenna in 2359
Paris McKenna is a female Human who is a Starfleet officer in the 24th century. Paris once dated Typhuss James Halliwell in the year 2359.
Early life
[
]
Paris was born on July 26, 2332 to her parents, Jane and Jack McKenna, in the city of Metropolis, Illinois on Earth. Paris McKenna was a beautiful brunette who was once a lover of Typhuss James Halliwell's. She grew up in New York and attended university to become a teacher. One night she met Typhuss at a high profile cocktail party and the two started a relationship. He left her behind after two months in (ironically) Paris, however, because his job was too dangerous for a real relationship. (Star Trek: Intrepid)
Starfleet Academy
[
]
Paris entered Starfleet Academy in 2350. Paris took classes to become a communications officer as well as a bridge officer. Paris also took fighting classes so she knew how to fight. Paris took Interspecies Protocol in her first year at the academy. In 2350, Paris took the Kobayashi Maru scenario. Paris used the Excelsior class starship USS Charleston in the scenario. Paris engaged two Romulan warbirds. Paris destroyed one Romulan warbird and disabled the other. Then destroyed the freighter, backing up her decision by suggesting that more than likely the crew was dead, and it was just a trap. She also reasoned that the crew would prefer this to capture and torture from their adversaries. Paris McKenna recorded one of the highest scores for the test in the Academy's history.
Paris also took Zero-G combat training in his second year at the academy. Paris also took classes such as Engineering, Klingon Physiology, Survival Strategies, Temporal Mechanics and Transporter Theory in her third year at the academy. Paris also took classes such as Forensic Psychology, Basic Warp Design, Advanced hand-to-hand combat and Early Starfleet History in her fourth year at the academy. In 2354, Paris graduated from Starfleet Academy.
Early career
[
]
The USS California

[

]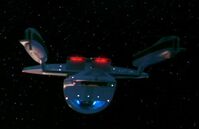 In 2359, Paris served on the USS California, a Excelsior-class starship as communications officer, Paris served on the California from 2359 to 2363. (Star Trek: Intrepid)
Romance
[
]
Typhuss James Halliwell
[
]
Paris McKenna was a beautiful brunette who was once a lover of Typhuss James Halliwell's. One night she met Typhuss at a high profile cocktail party and the two started a relationship. He left her behind after two months in (ironically) Paris, however, because his job was too dangerous for a real relationship. (Star Trek: Intrepid)