Selina Kyle is a female Human born on October 31st, 2332. In 2349 Selina started to date a boy named Typhuss James Halliwell. Selina Kyle was a lonely, frustrated girl pushed over the edge into obsession and crime after her boyfriend Typhuss James Halliwell broke up with her.
Selina didn't tell Typhuss that she was pregnant with his daughter Helena Kyle in January of 2350. Selina Kyle's repressed rage towards her ex-boyfriend Typhuss allowed her to transform into the clever supervillainess Catwoman.
During the 2380s Selina took a protégée, Patience Phillips, who is the second Catwoman. Selina is mentally unstable.
History
[
]
Early life
[
]
Selina was born on October 31st, 2332 on Earth. She broke out of a women's correctional facility for the first time when she was sixteen years old. Selina didn't tell Typhuss that she was pregnant with his daughter Helena Kyle in January of 2350. (Star Trek: Intrepid episodes: "Launch", "Revelations Helena", "The Return of Catwoman")
Becoming Catwoman
[
]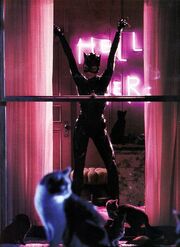 Selina Kyle was a lonely, frustrated girl pushed over the edge into obsession and crime after her boyfriend Typhuss James Halliwell broke up with her. Selina Kyle's repressed rage towards her ex-boyfriend Typhuss allowed her to transform into the clever supervillainess Catwoman. Selina appeared to suffer a psychotic break: ransacking her apartment, destroying her possessions, and sewing a homemade cat costume in preparation for her revenge on Typhuss. Calling herself Catwoman, Selina became a vigilante in her own right; on her first night, she brutally beat a mugger for trying to rape a helpless woman, but then chastised the woman for being unable to defend herself. Over the years, she developed a long record of criminality. (Star Trek: Intrepid episodes: "Launch", "Revelations Helena", "The Return of Catwoman")
Abilities
[
]
Acrobatics
Hand-to-hand combat (advanced)
Weaknesses
[
]
Mental Illness
Weapons
[
]
Whip