Tamara Johansen, also known as "T.J." is a female Human who is a 1st Lieutenant in the Starfleet Marine Corps and a field medic in the Stargate Program. She is a member of the team sent and later trapped aboard the Ancient vessel Destiny and returned to the base 11 hours later.
Biography
Edit
Background information
Edit
Tamara Johansen was born sometime in 2333 and came from a modest background. She has both surviving parents, and a sister. Her father worked as a tailor; he actually taught her how to do stitches, after he stitched himself in an injury. He had since retired. Johansen used to go camping with her father in the Olympic Peninsular. She is also an aunt to both her sister's children, and is quite fond of them.
At some point, she trained to become an officer in the Starfleet Marine Corps, and became assigned to the Stargate Program, where by 2381, she would be assigned to Icarus Base, working under Dr. Simms, the lead medic at the base. She once noted that she saw at least one suicide.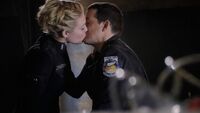 She had an affair with her commanding officer, Colonel Everett Young, a married man. The two would later conceive a child. After some time, she decided to end it, and to avoid any further complications, decided to leave the Starfleet Marine Corps after her scholarship to a Seattle University was approved. This raised suspicions by the base's International Oversight Advisory representative Camile Wray.